RA
The RA tab content is the same in all RA (Rapid Automation) jobs.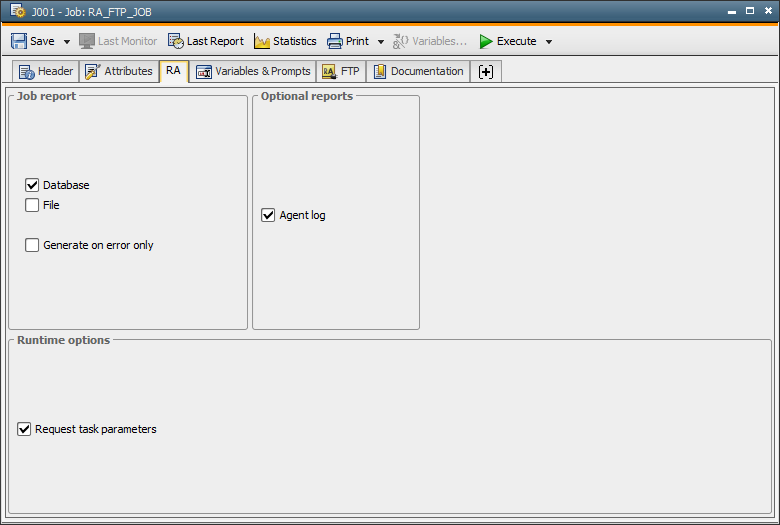 For Rapid Automation agent documentation including agent-specific job tabs, see the Automic Hosted Documentation.
Description
Field/Control

Description

Report

 

Database

The job report is administered in AE. When the job has been processed, the Automation Engine takes the process protocol that is stored on the agent computer and stores it to the AE .

File

The job report is administered in AE. The process log is available as a file in the target system after the job run.

On error only

When the job is canceled, the corresponding report is stored in the AE database and/or a file in the target system. This field is only available when you have selected "Database" and/or "File".

Optional reports

 

Agent log
When this checkbox is active, a report that contains the agent's messages about the job run will be added to the task.
Runtime options
 
Request task parameters

With this option being set, a dialog opens during the job's activation process in which you can change the specific RA attributes / parameters (you find them in the specific RA tab). Any modification will only affect the specific run and the object definition itself remains unchanged.

Specifically, a PromptSet dialog opens before the job is being generated which is similar to other PromptSet dialogs. If one or several PromptSet objects are assigned to the job ("Variables & Prompts" tab), they will be displayed in a common dialog together with the RA parameters during the job's runtime.

Note that the settings PROMPT_RESPONSETIME and PROMPT_TIMEOUT (variableUC_CLIENT_SETTINGS) also affect the RA parameter dialog.

To have the RA parameter dialog also displayed for workflow tasks, you must specify the settings "Task Prompts" in the properties (General tab) accordingly.
See also: