Agent Client Assignment
You cannot use agents immediately after they have been installed. For security reasons, you must determine the clients in which the individual agents can be used and the rights that they should have.
Object Definition
Object class: System object
Object type/Short form: HSTA
Once the agents are installed in your system and you have created the clients, you must then establish the connection between agents and clients and define which rights each agent will have on which client.
You can grant agents the necessary rights individually on their Authorization Page, but if you are dealing with many agents, this is very time-consuming. In this case a faster alternative is using the Agent/Client Assignment object (HSTA), where you collect agents and define an authorization policy that you assign to all of them in bulk. The HSTA object then enters the rights specified in the authorization policy in the individual agents.
HSTA objects can be created in system client 0000 only.
Defining Agent Client Assignment Objects
An HSTA object definition is made up of the following pages:
Standard pages that are always available, no matter what type of object you are defining:
The

Agent Authorization Policy

page described here.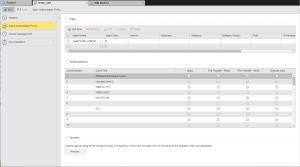 This is How it Works
In the

Filter

section, create the list of agents to which you will apply the authorization policy in bulk.
The

Authorizations

section provides the list of all the available agents in your system. Specify here the individual rights the agents should have (or not) on the clients.
In the

Preview

section, check the client/agent assignment you have just defined.
Apply the authorization policy.
Activate the HSTA object
For performance reasons, rights are not assigned every time an agent starts but only when it starts for the first time.

To Collect Agents in the Filter Section

To Assign Agents to Clients and the Corresponding Rights in the Authorizations Section

To Check the Client/Agent Assignment

To Apply the Authorization Policy